Our 'tractor' for this week is the Bauer Pulling Sled from SpecCast.
Originally posted by NTPAPull.com
Box- Contains the weight used to stop the vehicle and moves up the length of the sled rails progressively during the pull, driven off the front set of sled wheels.
Weight Block- Most sleds use a "full block" that weighs 2,000 pounds and a "half block" weighs 1,000 pounds.
Pan- Applies the force of the weight to the ground creating needed friction. The sled starts with only the front of the pan touching the ground. Bars attached to the bottom of the pan help make added friction at the end of the pull to stop pulling vehicle.
Trip- Sits between the frame rails of the sled. As the box moves up the rails the trip is hit and starts the push-down system. The trip is adjustable.
Push-Down System- Uses hydraulic cylinders to lift the back half of the sled in the air, allowing 100 percent of the sled's weight on the pan.
Kill Switch and Hook- The kill switch is always hooked first, allowing the sled operator to stop the engine of the attached vehicle in the event of an emergency or if the vehicle breaks free of the sled. The hook is used to connect the sled to the pulling vehicle and extends the weight of the sled to the vehicle's hitch.
Sled Operator- The driver of the sled. Has the responsibility of maintaining a controlled pull at all times. May pull kill switch if they feel something is out of control.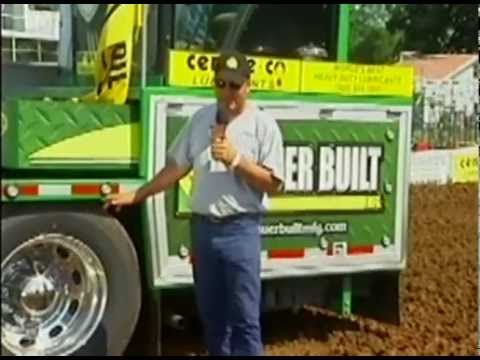 While we are in the cellar of winter we can dream of warm weather, county fairs and tractor pulls! SpecCast released a quadruple set of resin base pulling sleds around 2014/2015. They were released in four colors in the initial release. I bought this in the summer of 2015 while on vacation in Pennsylvania at Outback Toys. Their showroom is a rather large pole barn with a selection of farm toys that's difficult to beat.
This 1/64 scale model features rubber tires, real chain hitch as well as few other worthy details. The actual pulling sled is based out of Greenville, Ohio. The cabs are typically new or used John Deere or Case IH. The axles and wheels are sourced from semi trailers and the rest of the sleds are typically fully custom built. They are typically pulled by actual semi truck and are road legal. They do have their own drive trains so after the end of a tractor pull they can move back to the starting line on their own power.